Ripple coin was trading high during the mid of February. The plunge after that brought a tremendous change in the price trend of XRP coin. The price began dropping, and now it is trading at $0.240. The currency was at the same level on February 02. The chances of improvement in Ripple prices in recent days are thin. The interested traders might have to wait for some time.
Ripple Price Analysis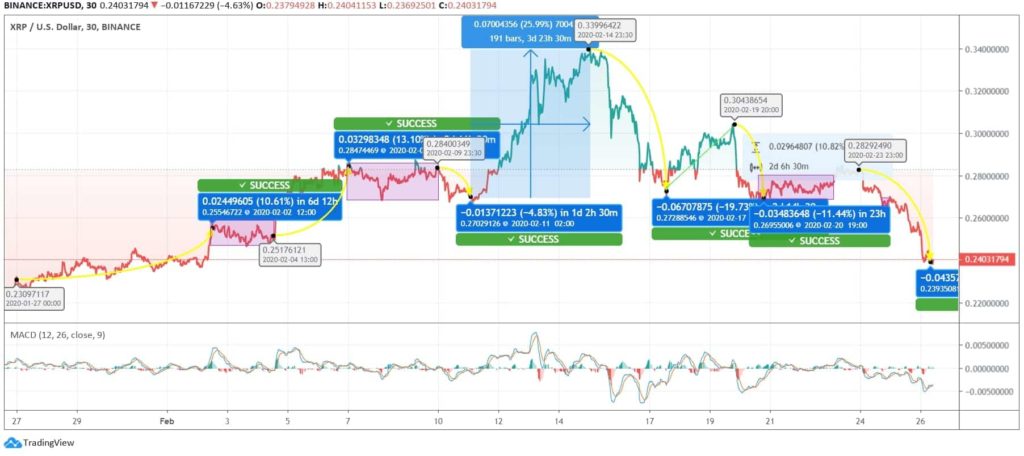 On January 27, at initial hours, the price of Ripple coin was at $0.2309. The currency escalated to $0.255 by 10.61% hike in the next six days. The currency locked itself around the same level until February 04. The price improved to $0.2847 on February 07. The price tightly locked itself around $0.284 and later dropped to $0.270 by 4.83% fall. XRP price escalated to $0.339 by a massive hike of 25.99%. However, in the next three days, the coin price dropped to $0.272 by 19.73% fall. Ripple coin price jumped to $0.304 by 10.82%, but then, it dropped to $0.269 on January 20. The currency was spotted hovering around $0.280 for a while. The coin slightly recovered to $0.282 but again came under pullback pressure and dropped to $0.239.
As per the current price movement, there is no sign of improvement in the currency. The price might drop below and close with a negative digit. Ripple price is currently trading at $240. The coin has breached the immediate support level at $0.247 and the next support level at $0.241. It might dribble down the major support level at $0.229.