Ripple's price marked a tremendous improvement on yesterday's chart. The coin touched $0.192 but couldn't breach 7-days high at $0.193. Today, the XRP coin started the day with a moderate plunge, but recently, it has started recovery. The prospect of growth is good and looks like the impending hours would take the price to the resistance level at $0.195.
Ripple Price Analysis
Since mid-February, the XRP coin was trading under strong bearish hold, and it touched a low at $0.14 on March 13. From this price point, the currency started trading upwards with a moderate momentum, and today, it managed to trade above $0.188.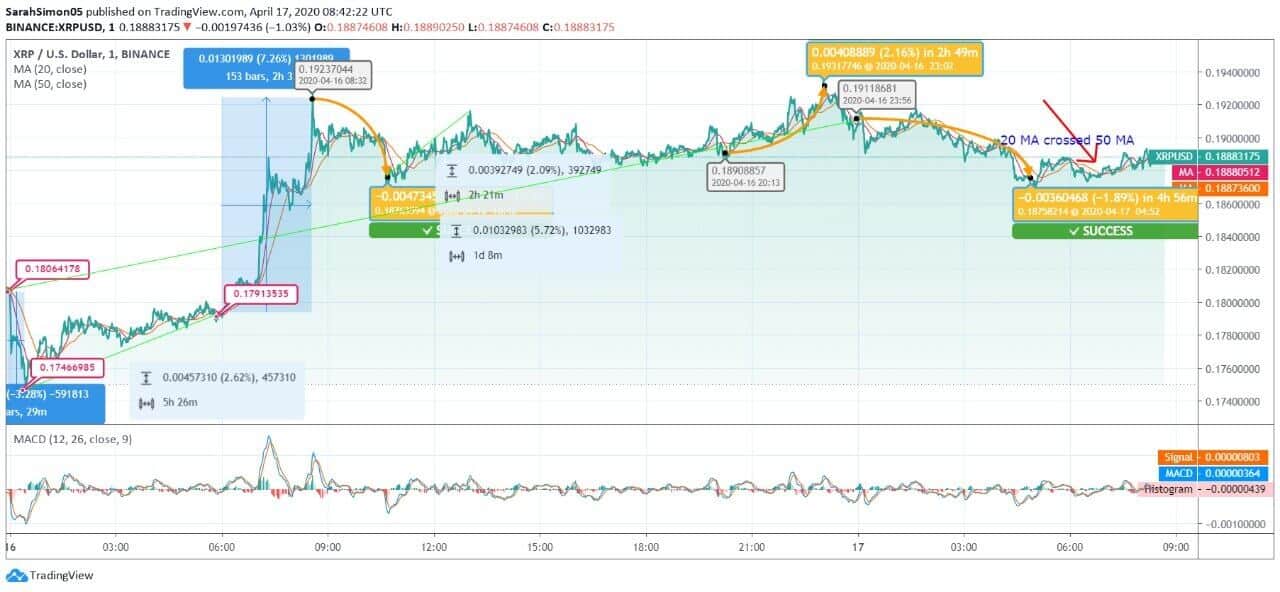 Yesterday, Ripple price spotted at $0.180 during the opening hour, and then, in the next 30 minutes, the price dropped to $0.174 by 3.28% fall. However, later, the coin was followed by a heavy improvement spree. By 06:00 UTC, the XRP price was trading at $0.179, and over the next 2 hours, the currency marked steep hike, and the price escalated to $0.192. Later, the coin faced a slight plunge to $0.187 by 1.25%, but immediately it improved to $0.191 by 2.09% hike.
Further, Ripple locked its price around $0.190 till 20:13 UTC, and then, it improved in the later hours by 2.16% and touched $0.193 at 23:02 UTC. After that, the XRP coin trading downwards and touched $0.191 and closed the day. The day-long movement brought a 5.72% progression in the price.
Today, Ripple started with a moderate downtrend, and in almost 5 hours, the price spotted at $0.187. However, from this price point, the currency began the escalation, and at the time of writing this analysis, the XRP coin touched $0.188. The MACD indicator reflects bearish crossover as the signal line has overlapped the MACD line. And Ripple price holds support from its 20 & 50-day MAs.
The current price of Ripple currency is near the immediate support level at $0.181. The same could get breached in the impending hours. However, if bulls enter, then the immediate resistance level is set at $0.195.